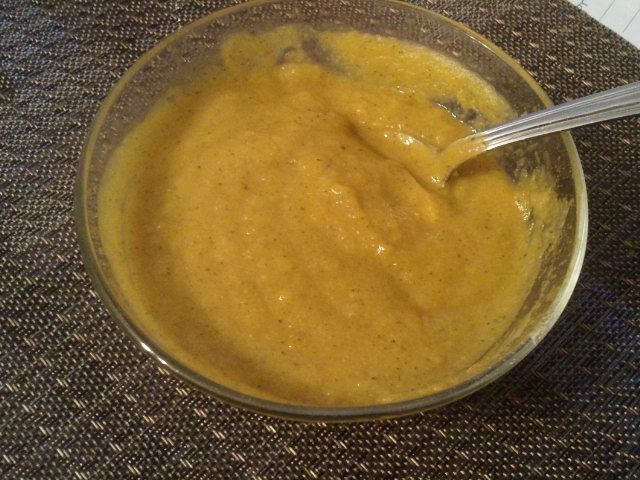 I love fall. I love the weather, the scenery, and the food. It's such a comforting time of year. Be warned, after this post, there will be an onslaught of pumpkin posts (soup, muffins, cookies, oh my!)
But for today, the focus is on Squash & Veggie Soup. I found the original recipes on one of my favourite sites,
ohsheglows.com.
There it is titled
Luxurious 7-Vegetable and "Cheese" Soup
. It's kind of a mouthful and definitely scary if you aren't a vegetable fan. I mean,
seven
vegetables? Let's not get excessive and point that out. For you non veggie fans, you will notice fewer veggies in my version...mainly because I realized I didn't have sweet potato once I had started. Oh well.
Anyway, I made a few changes and thought I would share the changes with you. First things first, I divided the recipe in half and then I went from there.
Ingredients
oil (for sautéing)
2 cups of onion
2 garlic cloves
1/2 cup of celery
1/2 cup of carrots
3 1/2 cups of broccoli florets
2 cups of butternut squash
3 cups of vegetable broth
2 tbs of soy parmesan
dash of chili pepper, crushed chili pepper flakes, cinnamon
Directions
Chop and sauté the onion and garlic in a large pot over medium heat.
Add celery, carrots, broccoli, and squash as you chop them. Sauté for a few minutes.
Add veggie broth and squash. Simmer for 15-20 minutes until the squash softens slightly.
Remove from heat and allow to cool significantly.
Add the soy parmesan and other spices. Stir gently.
Using a blender, blend the mixture in small batches.
Return all smoothly blended batches into the pot to stir together (and reheat).
Serve and enjoy.