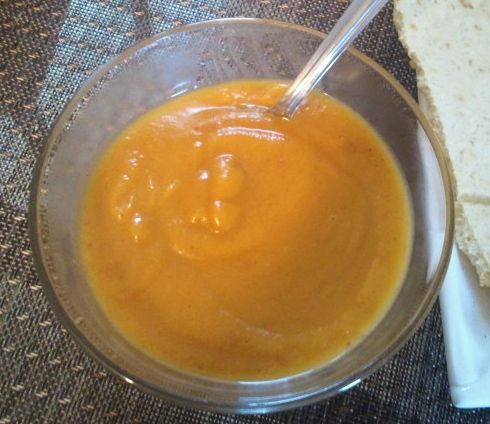 I know I recently blogged about a
squash & veggie soup
, but here is another recipe. This one is yummy and has less of a bite to it. I had to make a couple of minor changes because I didn't quite have enough squash (I subbed in a bit of pumpkin) but I am blogging the original recipe.
My only taste tester (that wasn't myself) prefers this recipe to the previously blogged recipe.
This recipe yields about 8 servings of 1 cup each. I've been told it freezes well, although I have not tested this. I avoid freezing things because then I won't open the freezer six months from now and wonder what the mystery frozen item is. If this isn't an issue for you, test it out.
Ingredients
2 tbsp. dairy-free margarine
1 onion
2 garlic cloves
1 carrot
1 celery stalk
3/4 tsp each of cinnamon, ginger, & nutmeg (I upped the cinnamon and decreased the ginger)
6 cups of squash (peeled, seeded, & chopped)
1 medium potato
900 mL of veggie broth
1/4 cup maple syrup (I would omit this)
1 cup water (I just used more broth)
Directions
Melt margarine in a large pot over medium heat.
Add onion, garlic, carrot and celery. Saute for 5 min until veggies are softened.
Stir in spices.
Add squash and potato, broth, water. Bring to a boil, reduce heat and simmer partially covered until squash is tender (30 min) Let cool slightly.
Puree in batches in blender and then pour back into pot.
Stir in maple syrup.
Serve and enjoy!