My sister forwarded me a chili recipe, but since it's not hers to share, I felt uncomfortable posting it...until I scrounged the internet (that's right, the whole thing) to find the recipe so I can share it.
But, first, you need to know two things:
I do not like chili
My husband doesn't 'do' vegetarian
And then we had the meal
that.changed.everything
. Ok, maybe I'm being a titch dramatic. Anyway, today I slaved over the crock pot and made super yummy chili. (except it actually required very little work).
And
here
it is:
Sweet Vegetarian Chili (AKA the best chili ever)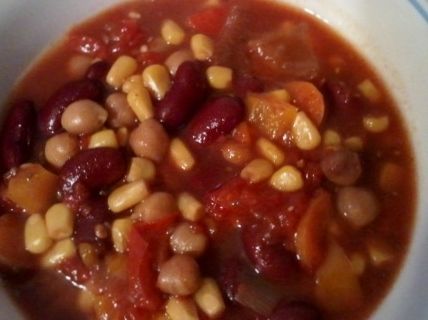 19oz can of chickpeas
19oz can of red beans
28oz can of diced tomatoes
11/4 cup of corn
2 carrots diced
2 garlic cloves chopped (I put more)
1 red onion chopped
1 green, 1 red, 1 yellow peppers chopped
1 cup ketchup
1/4 cup honey ( I used maple syrup)
3tbs chili powder
1/2 cayenne pepper
Throw it all in a crock pot and cook on low for 8-10 hours. Serve with sour cream and shredded cheese (I skipped this).